I was using the filtering function in the Web GUI to help diagnose a problem opened elsewhere. My X12 music database shows 3 files as not having been converted to flac.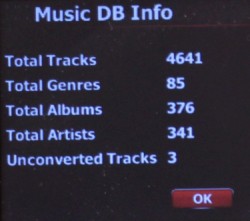 That status had been showing for hours with no change so I went exploring. Using the web interface (same results with 0.9.6.7b and beta 0.9.8.2a), I tried filtering on the Conv field using variations of yes and no as they display and got only "No result" so I thought binary and tried
0
and
1
.
0
gave No result just like the other attempts.

Filtering using
1
showed all the songs with Conv field displaying yes, 3 songs less than without the filter.

I printed out the song database in its entirety using legal size landscape in pdf format so that the
Song_

K

onverted
field showed and was able to find the three songs showing as SONG_CONVERTED_NO with the rest showing SONG_CONVERTED_YES.
Without the filters, the 3 songs show as not converted. For clarity, I'm providing further filtering which shows only 2 of the 3 songs.

If filtering on this field is binary, a) shouldn't this be documented somewhere and b) shouldn't the
binary 0 filter
work the same as the
binary 1 filter
and give a proper result?
Thanks, Philip.